Description:
DIY Jewelry Sets, Brass Crimp Beads and Iron Findings, with Tools, Golden
Size:
Barrel: 2mm diameter, hole: 1.2mm, 250pcs;
Head pins: 22x0.7mm; 5g;
Folding Crimp Ends: 9x3.5x4mm, Hole: 2mm; 50pcs;
Ribbon Ends: 10mm long, 7mm wide, 5mm thick, hole: 2mm, 20pcs;
Earring Hook: 18x0.8mm, Hole: 2mm, 20pcs;
Lobster Claw Clasps: 12x6mm, Hole: 1.2mm, 30pcs;
Screw Eye Pin Bail Peg: 8x4x1mm, Hole: 2mm, 150pcs;
Snap on Bails: 7x5x3mm; pin: 1mm, 20pcs;
Jump Rings: 8x0.7mm; about 6.6mm inner diameter; 10g;
Jump Rings: 4x0.7mm; about 2.6mm inner diameter; 10g;
Containers: 13x6.8x2.1cm, 1pc.
Assistant Tool: about 18mm in diameter, 7mm wide, 1mm thick, 1pc;
Tail Wire: 0.5mm in diameter, about 35m/roll, 1roll;
Stretch Bracelet Making: 0.5mm; about 18m/roll, 1roll;
Tweezers: 135x10x4mm, 1pc;
Pliers: 130x75x10mm, 1pc;
Waxed Cotton Cord: 0.7mm; 10m;
Memory Wire: 60x0.6mm; 10circles.
Priced per 1 Box
Please Note: Slight deviations in colors is allowed due to different display device.
| | |
| --- | --- |
| Size | 13x6.8x2.1cm |
| Material | Brass, Iron |
| Metal Color | Golden |
| Usage | Findings Kits |
| Package Size | 1 Box per package |
Customer Questions
Inspiration Project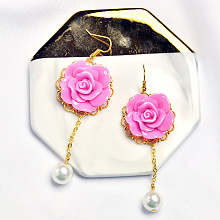 Romantic Rose Earrings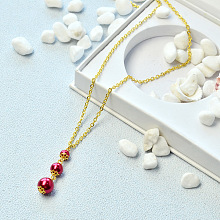 Pretty Red Pearl Pendant with...